Help Centre
Hello. I'm Sarah, I'm a style consultant and I work alongside Partybra in their Melbourne office developing their wonderful range. I'd like to share with you some useful tips and instructions to get the best out of your Partybra and Partybra accessories.
Sizing
Classic Collection
To get the best fit for your adhesive Partybra stick on bra simply start with the size you would usually take with your regular bra. If you are a 14 back or over, or if you are a full cup please select the cup size above.
Drawstring Collection
The drawstring on these strapless stick on bra's allows you to create and sculpt your look. With this fantastic bra I would simply select the cup you always choose for your regular bra. These bras are generous in size.
How to put on your adhesive bra
Clean your breast area with your chosen cleaning products. Do not apply any moisturiser.
Gently dry yourself with a towel until the area is moisture free.
To practice getting the look you desire, do not remove the plastic backing and see how you'd the adhesive bra to fit. If you have purchased a drawstring stick on bra, now is the tine to adjust the drawstring until you get the cleavage you want. Once you're happy with it peel back the plastic backing on the adhesive. Take extra time doing this as to not get your fingers on the sticky. Place the cup underneath your breast and press from the bottom to the top. Clip together the center clasp, or drawstring, depending on the model strapless bra you bought.
Walla! You are done. It really is as easy as that.
How to put on your Partybra Australia Drawstring Bra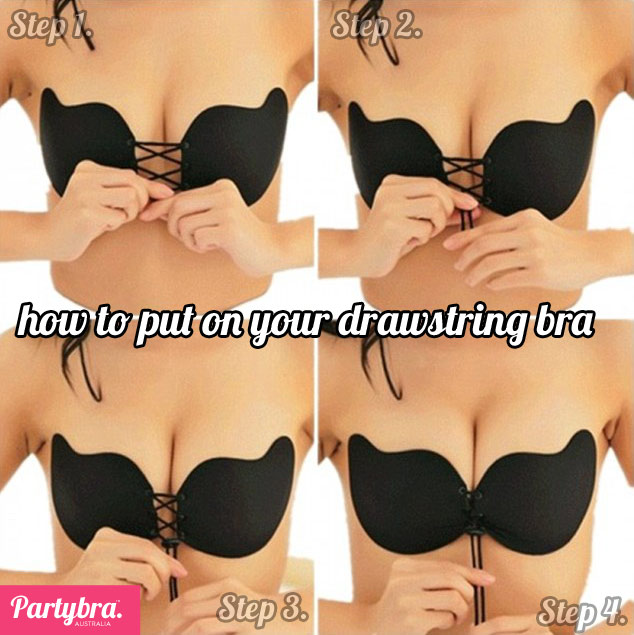 Gently remove your party bra adhesive bra from your body.
Fill an empty receptacle full of clean luke-warm soapy water. With a flannel or cloth gently dab the bra down until it is wet, being careful to be light handed.
Allow to soak then hang out to dry or leave on top of a radiator.
When dry your stick on bra will be ready to use again.